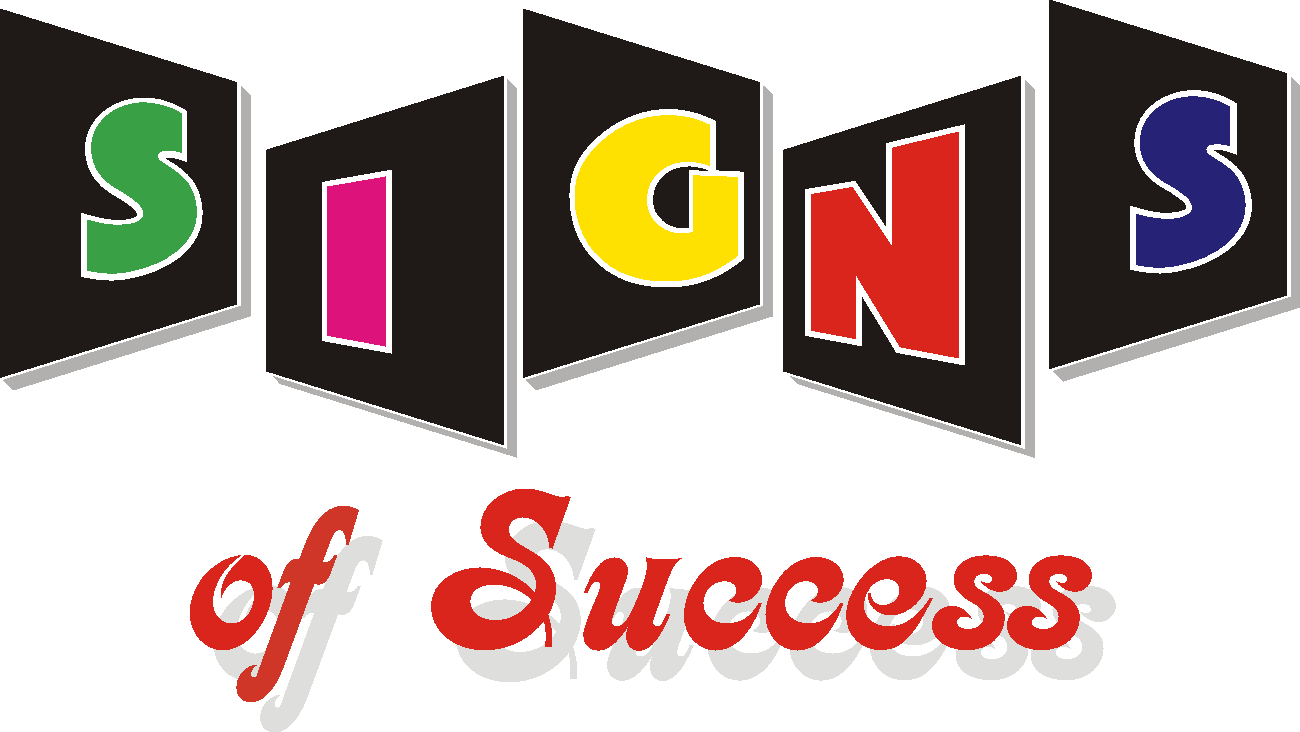 ---
M U L T I M E D I A G R O U P
Signs - Graphics - Printing - Promotional Products
Digital Sign Systems - Advertising Media
Signs Of Success
Can provide you with all types of signs, short or long term,
for interior or exterior application.
Interior Signs - Exterior Signs - Banners - Window Lettering
Vehicle Lettering - Magnetic Signs
Signs & Your Business
Have you considered the impact that your sign has on your business?
Introduction
Signs are one of the most efficient and effective means of communication. Signs
tell people who you are, what you are and where you are.
Signs are such a powerful communication medium that it is difficult to estimate the extent of their influence. Other media require the directed attention of the person receiving the message. Signs, however, can convey a message while creating a mood or feeling of atmosphere. It is not necessary for people to give full attention to your sign in order to derive meaning from its presence.
What Is a Sign?

A sign is the most direct form of visual communication available. In fact, so many people use signs without a second thought that it is easy to overlook their importance. When we cannot talk to other people directly in a given location, we tack up signs: wet paint, beware of dog, enter here, garage sale, etc. Signs are the only form of mass communication directly available to everyone.
What Signs Can Do for Your Business?
Signs perform three major communication functions for your business: they give information and direction, provide a format for street advertising, and build your image.Without an effective sign it is often impossible to determine what type of business is being conducted in a given building.
The Advantages of Signs

On-premise signs are your most effective and efficient means of commercial communication because they are inexpensive, available, practical, easy to use, always on the job, and directly oriented to the trade area of your business.
Signs Are Effective

Your sign is an integral part of your advertising program along with the other forms of commercial communication such as television, radio, newspapers, magazines and billboards.
Signs are always on the job repeating your message to potential customers. Your on-premise sign communicates to potential customers twenty-four hours a day, seven days a week, week after week, month after month, year after year. Every time people pass your business establishment they see your sign. The mere repetition of the message will help them remember your business.

Nearly everyone reads signs. Signs are practical to use because nearly everyone is used to looking at them and using them, even small children. Studies have shown that people do read and remember what is on signs. When special items are displayed, sales increase for these particular items within the store.

Signs are inexpensive. When compared to the cost of advertising in some other media, the on-premise sign is very inexpensive.

Signs are available to each and every shop owner. There is no need to schedule the use of your sign. Your sign is available to you whenever you need it and to be used however you please.
Call Signs Of Success
831-SIGN
(831-7446)